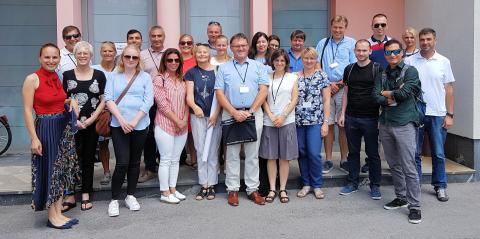 Agronomy & Physiology meeting was held in Ljubljana, Slovenia in July 2019.
The meeting was organised by Peter Dolničar
At the meeting the following thematics were presented:
-       Climate change, cropping practices and strategies to mitigate abiotic stresses effects
-       Precision agriculture
-       Irrigation potentialities
-       Sustainable nutrient management: fertilizers use and efficiency, biostimulants
-       Cropping systems and potato crop: conventional, conservative agriculture, agroecology, organic production
At the meeting there were 25 attendees from 12 countries: Slovenia, Chech Republic, USA, Israel, France, Latvia, The Netherlands, Peru, Serbia, Poland, Turkey, United Kingdom. 18 papers and 5 posters were presented. One student without EAPR student support attended the meeting.
A round table on haulm killing was organized after the ban of Diquat in the EU. A representative from the company Syngenta explained the current situation and commented 'There will be no chemical available to replace Diquat in the near future at Syngenta'. It was agreed in the discussion that the Diquat ban posed big challenges ahead, since there is no adequate replacement for the Diquat at the moment. Reports from the countries showed that there are differences among the countries in deployment of the new strategies for haulm killing but all would need a transitional period, since farmers are not sufficiently prepared. It was proposed that EAPR could make a statement to Brussels authorities to allow a transitional period for Diquat.